Welcome To Khalid Alhassawi Auditing
Accounting And Auditing Firms In Dubai
"Accounting and Auditing firms in Dubai, UAE" – Khalid Alhassawi Auditing (KAA) holds an important position as a leading chartered accountant firm in Dubai. Moreover, KAA stands out as one of the Best Audit and Accounting firms in Dubai, UAE. Our services consist of a wide range, including Audit, Accounting and Bookkeeping, VAT, and Advisory Services in Dubai, United Arab Emirates. With our skilled team having 20+ years of experience, we guarantee the accuracy of your financial statements. Additionally, we provide a competitive advantage, ultimately saving you valuable time and money.
Khalid Alhassawi Auditing is an approved Auditor in UAE. Leveraging our years of experience and skills, we are prepared to address and resolve any financial problem within your business. We firmly believe in providing exceptional services that constantly exceed our client's expectations. Our services include Financial Statements Audit, Internal Audit, External Audit, Statutory Audit, VAT Audit, Information System Audit, Forensic Audit, Compliance Audit, Tax Audit, Due Diligence Audit, and Fraud Investigations Audit.

KA Auditing provides an array of Accounting services that range from bookkeeping to financial reporting. As one of the top accounting firms in Dubai, we carefully keep all your financial records and transactions up-to-date. Additionally, our customized services streamline your operations and provide valuable information. Therefore, you can confidently rely on us to take your financial management to the next level.

TAX Services
Khalid Alhassawi Auditing recognizes the importance of effective and efficient tax planning for companies. It enables the reduction of tax liabilities and better the distribution of financial resources to increase profits. Moreover, as a certified Tax Advisory firm registered with the Federal Tax Authority (FTA), KAA provides valuable tax advisory services. These services assist our clients to fall in line with UAE Tax laws and avoid unplanned losses linked with tax compliance. Furthermore, we offer a range of tax consulting services, including VAT advisory services, Corporate Tax advisory services, and Excise and Tax Residency Certificates in UAE.

With KAA's Business Advisory services, we assist you in transforming challenges into opportunities and achieving your goals. Furthermore, through our strategic Business Advisory services, such as Business Valuation, Business Establishment, Feasibility Study reports, Financial Advisory, Risk Advisory, Merger & Acquisitions, Corporate Governance, Business Consultancy, and IFRS Advisory in UAE, you can easily analyze your problems and gain valuable information into your financial data. Our tailored solutions, ranging from market research to practicability studies, are designed to meet your unique needs. Consequently, you can maintain a competitive edge by using our actionable insights and expert advice, thereby guiding your business toward success.

Small Businesses & Startups
KAA holds a prominent position among Accounting And Auditing Firms In Dubai, UAE. Consequently, we have a deep understanding of the vital need for reliable and effective auditing and accounting Services in Dubai for small businesses and startups. With a team of experienced professionals, we are equipped to deliver tailored solutions that cater to the unique requirements of our clients searching for accounting firms in Dubai. Furthermore, we continuously review and update our range of services to stay abreast of the ever-changing business world.

Mid-Sized Businesses
The financial structure of a mid-sized business can be more complex, considering the range of scenarios they encounter. These companies must manage cash flows, make adjustments for short and long-term debt, and modify their overall capital structure. In this regard, KAA provides businesses with the necessary guidance to ensure equitable maneuvering and cost-effective services that enable them to achieve their goals.

Enterprises
Managing finances for an enterprise-level business comes with its own set of challenges. Moreover, the primary goal of large-scale businesses is to ensure a sustainable rise in profits. To achieve this, it is crucial to effectively manage the balance between debt and equity, adapt to stock market fluctuations, and make strategic investment decisions. In this regard, Khalid Alhassawi Auditing (KAA) is here to provide the necessary support and guidance. We will help you be in charge of these challenges and make informed choices that drive your company's success.
Our Client Base and Area of Expertise
At KAA, we have clients from various industries like services, commerce, and government sectors. This gives us valuable experience and knowledge about the local market and workplace laws in the United Arab Emirates. We have the expertise and resources to provide customized solutions for our clients' unique needs.
Our clients come from a variety of industries, including:
Real Estate Development and Property Management
Educational Institutions
Government Sector
Non-profit Charities Organisations
Commercial establishments of all kinds (Car Trade / Import and Export / Retail and Wholesale Trade)
Agriculture and Animal Production
The various types of services sector (Logistics Services / Technology and Software / Travel and Tourism)
Why Choose Khalid Alhassawi Auditing?


cases / Audit / completed


Khalid Alhassawi Auditing (KAA) offers a wide range of services to companies in Dubai, UAE. These services include audit and assurance, accounting services, TAX services, VAT services, corporate TAX in UAE, excise TAX, and business advisory services. Our approach is multidisciplinary, and we are dedicated to maintaining quality and continuous development, setting us apart from others. Our goal is to add value to our client's businesses by enhancing transparency, governance accountability, financial performance, and return on investment.
At KAA, we adhere to international standards of auditing (ISA) and international financial reporting standards (IFRS), ensuring exceptional services for our clients. Our team includes registered tax consultants in the UAE who provide reliable VAT and tax services, complying with the laws and regulations of the Federal Tax Authority (FTA). We believe in making a significant impact and strive to surpass our client's beliefs with outstanding services.
Our services include:
Audit & Assurance
Accounting Services
Tax Services
Business Advisory Services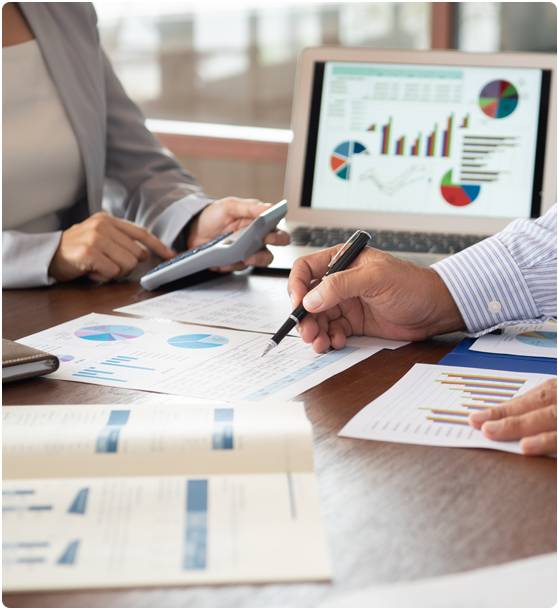 Words That Prove Khalid Alhassawi Auditing is the Best Auditing And Accounting Firms in Dubai, UAE
Client comment on KAA services

Aura Brooks

Marketing Director
Client comment on KAA services

Aura Brooks

Marketing Director
Client comment on KAA services

Aura Brooks

Marketing Director
Client comment on KAA services

Aura Brooks

Marketing Director